Congratulations to our new licensed architect, Whitney Taylor!
We are proud of Whitney and know how monumental it is for her to achieve this goal, both professionally as well as personally. Whitney said, "Becoming a licensed architect is a goal I have worked very hard to achieve. It has personally given me confidence to have the skills, knowledge, and ability to carry out the responsibilities in my architectural career. Professionally, I hope my colleagues have gained the same confidence in me through the projects we design together."
Gingertown 2018
We always love participating in Gingertown Nashville. It brings architects, engineers and contractors from across Nashville to use their talents to benefit local charities.
AGAPE - Christmas 2018
Every Christmas, we donate to different charities that hold a special place in our hearts. This year, we gave back to AGAPE, an incredible organization that serves to strengthen children and families.
Photo courtesy of AGAPE.
HCA Celebrates 50 Years
As they toast to five decades, Hereford Dooley Architects reminisces on our 20+ year relationship with them as a partnering Architect.
In 1994, founding principal Tom Dooley established a working relationship with HCA. Since then, our firm has designed over 1000 medical facilities ranging from a ground-up hospital, acute care renovations, Ambulatory Surgery Centers and Freestanding Emergency Departments.
At the 2018 HCA Partnering Session, the Design & Construction department presented Trip the Valued Partner award for his dedication to HCA. The recipient is someone who has gone above and beyond by placing HCA at the top of their own priority, and Trip is the first to receive an award of this kind. Hereford Dooley Architects is proud Trip's dedication to his clients was acknowledged by HCA this year.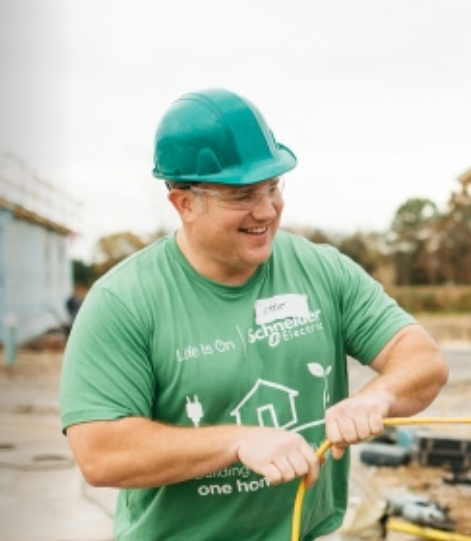 Habitat for Humanity - Nashville
Golf Tournament
We were honored to sponsor and support the Habitat for Humanity of Greater Nashville's annual golf tournament. The tournament raises over $200,000 in support of affordable home ownership.
Photo courtesy of Habitat for Humanity.